Replatforming - How to gain without pain
Eoin Lyons, CEO at OPAL Group talks about replatforming.
The subject might not immediately make you think of digital marketing, but platforms are all part of the customer experience. So we think a debate about platforms naturally fall under the heading of digital marketing.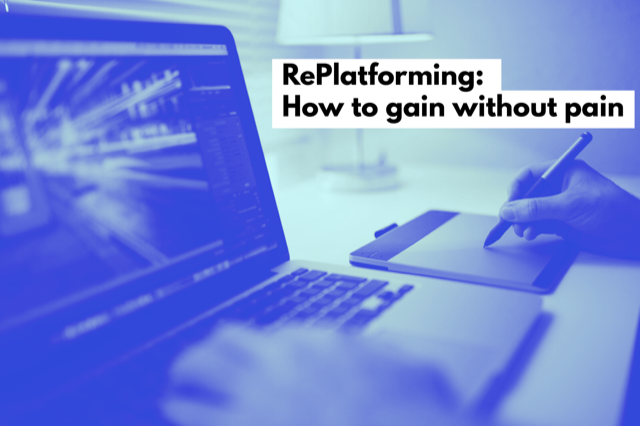 The last year has seen plenty of headlines about the bad experiences of Protection providers when building and migrating to new platforms. Despite a huge budget, some of the biggest names failed to deliver, leaving clients locked out of new systems and budgets overrunning. When was the last time you heard about a re-platforming project that was successfully delivered, on time and on budget?
The reasons they hit headwinds are many. Firstly, they are very difficult to do. It involves changes to processes and procedures and neither employees nor customers like the kind of change that involves having to learn how to use a new interface, even if they are told it won't be a long and painful process.
High profile replatforming issues have hit Aegon, Aviva and perhaps most notably TSB, which saw nearly two million people being locked out of online banking services and resulted in an FCA paper published on the issues.
So how can you do it successfully? First make sure to look through the 'right end of the telescope' and start off by asking what problem are we trying to solve? Do you need a new platform or do you need to launch new, competitively priced, attractive products in the channels that customers want to buy them in? Then there are secondary consideration around how to keep distribution channels happy, maintain customer service levels, all while testing, learning and retesting.
Our experience of building and platforming HSBC's fully digital Protection platform when they re-entered the IFA market in 2017 gave several answers. It was built in only four months and to budget. The scope of the build included all aspects of the customer journey from quotation, acceptance, administration and claim. It also includes an adviser portal for fully digital self-service as well as being integrated with the leading IFA CRMs and comparison websites.
How did we do this? Firstly, HSBC innovated outside their legacy in a ring-fenced development area hosted by OPAL. Over the subsequent 12 months HSBC connected to aggregators, CRMs and rules engines. Market pricing was actively monitored and frequent rating changes – every few weeks - were put in front of customers in a handful of working hours.
The key is that it was a step by step development over a period of time with measurable milestones, triggers and reactions to the market. This took an investment of commitment, resource and finance, but not on the scale of 2018 platform failures. Our three main drivers in developing software solutions are flexibility, speed and quality of build across range of products that we have a wealth of experience in supporting. We believe this is central to a successful build.
So how about the need to migrate away from creaking legacy systems? Again, challenge what you are trying to achieve. The 're' in replatforming means you are not starting from scratch, there is a whole legacy system to redeploy, which adds another layer of complexity. We have seen examples of old, complex books with very low customer volumes where the benefit of migration is hugely outweighed by the cost and risk. In these situations, we would suggest a selective approach to replatforming.
Keep innovation outside of the legacy system, don't try and mix the two together. Build the new platform and where it is low risk, migrate old books to new platform. Where it is high risk, leave well alone. At the very least take a hard look at the benefits of migration versus cost and risk.
Here are a few reasons why this segmented approach is successful:
Reduces complexity so the focus is on the immediate needs for new products
Lower costs are involved with a modular approach using tried and tested technology
Less staff disruption with existing products managed in an existing environment, while new products are digitised
Less customer disruption because there's no change to the existing systems initially
Overall there is less project risk because there are more manageable 'chunks' of development, building towards a new 'platform' over time. Building new digital platforms and replatforming existing data doesn't have to be fraught with complexity and doomed to failure. It just needs to be fully assessed in advance and then broken down into practical and manageable sections.