Digital innovation in protection marketing
Jon Ford, Director of Individual Protection at Canada Life talks about whether there is any room for digital innovation in protection.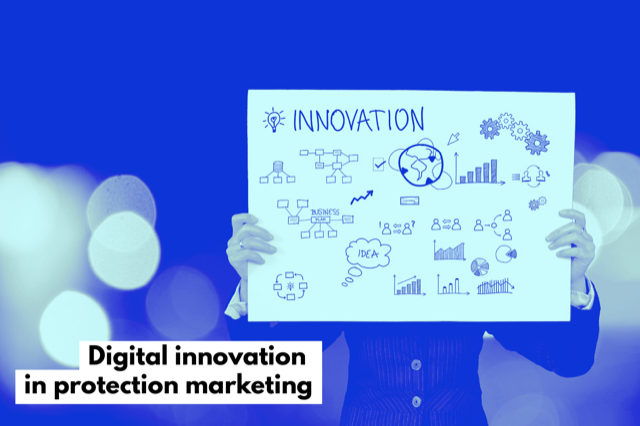 At first sight, it would appear that the digital marketing space is saturated. We're bombarded every hour of the day with emails, behavioural advertising, social media posts and text messages. Is there any room left for genuine digital innovation?
In contrast to the digital world, the protection market is far from saturated. With an estimated £2.4 trillion protection gap in the UK1, there's an opportunity for providers to grow the market by reaching out to customers in new and innovative ways.
So the challenge for protection marketers is how to innovate with digital technology to engage with new and existing customers.
What does your customer want?
The starting point for a marketing team is to put the technology to one side and start with the customer. Customers don't want a new technology for the sake of it; they want it to provide benefits which improve their lives and remove friction. It's only after you find out what the customer wants, and discover which part of the protection proposition is missing, that you can use the technology to deliver it.
Our research in 2018 explored a highly underpenetrated segment - the relationship between women and protection.
Perhaps the least surprising result was that over half of women aged 25-45 do not have any kind of individual protection, and exactly half have neither considered it nor were they likely to consider it.
This lack of awareness and apathy won't surprise anyone in the industry. But when we drilled deeper into the results, we found some surprising ways in which we could address it.
Firstly, when asked 'What would make buying something a high priority?' the top answer, selected by 42% of respondents, was: 'It will save me money'. It's a clear message - customers in cash-strapped times want value for money.
Next, we asked customers to select from ten ways they would prioritise spending their money. Encouragingly, 'Life Insurance' came in a close second at 31%, but it was piped to the post by 'Discount apps for household needs', at 32%.
Knowing how customers prioritised their spending, we considered how we could combine their desire for instant rewards and savings, with their latent need for better financial protection. Then we looked at how digital technology could deliver this.
A new way to add value
Most protection policies come with a range of added value benefits to provide help and support beyond the financial benefits of the policy. Bereavement counselling, probate advice, personal counselling and legal advice, plus alternative medical opinions and telephone based nursing support are regularly provided. They're a great way to help customers struggling with life events and illness, often at the point of making a claim. But what is often missing is guidance and information that helps people deal with less critical, but equally important life and health issues on a day-to-day basis.
We found the ideal solution for enhancing our support services package was already in the customers' hands: the ubiquitous smart phone.
The innovation was to provide an app to our protection customers, whether they were buying their cover individually or it was being provided by their employers. Placing wellbeing content in an easy to access app puts help and guidance at their fingertips, 24 hours a day, 365 days a year.
It could be lifestyle guidance on diet and exercise or reducing their alcohol intake. Or family matters like dealing with children, schooling, teenagers or caring for elderly parents. Whatever the need, there's a host of information available such as articles and podcasts.
Additional tools like online calculators help them assess their finances before they read up on budget planning and money saving tips.
Resilience building techniques and dealing with stress help them stay on top of situations which could otherwise deteriorate into a spiral of decline.
Whether employed or self-employed, working or homemaking, the Canada Life app hosts over 800 wellbeing articles providing hints and tips to help them cope with work, life and everything in-between.
And then of course there's the fun stuff – discounts and savings that help individuals and families stretch their finances that bit further. Whether it's discounted cinema tickets, shopping for clothes and groceries or savings on more substantial items and days out, customers can see the benefit of their policy on a day-to-day basis through their apps. Indeed, individuals, couples or families making full use of the range of discounts and savings can go a long way towards offsetting the cost of their protection! If they're an employee, it's like having an additional financial bonus from their employer.
How does this increase adviser engagement?
It's an innovation that's changing the way they can talk about protection. As well as the necessary focus on the 'What if?' scenario, the doomsday case when a customer or employee is taken seriously ill or dies, it gives them the opportunity to have a positive conversation around protection. Advisers can put some heart into a head-led decision to buy.
With an adviser version of the app available to those who have embraced this new marketing channel, advisers are able to experience the benefits of the app themselves first hand. They can tell the story from their own perspective, whether it's about useful content they found or ways in which they have saved money through the perks and discounts.
What's the impact on customers and employees?
Instead of filing their protection policy at the back of the drawer, customers are more likely to engage with their provider on a regular basis through the wellbeing information and discounts. Individual customers who see the benefits of their policy on a regular basis are less likely to lapse them.
Group Insurance customers, the employers, have an additional tool in their benefits bag. It's a regular reminder of the steps they're taking to support their employees. And for the insurer, it provides a bridge between them and the end customer, the employee.
Conclusion
When protection providers innovate with digital technology, it's not just a case of doing more of the same, following the market or introducing technology for the sake of it. To stand out, they need to use it in new ways which add value to their proposition. Done well, digital marketing can grow the market and help close down the protection gap.