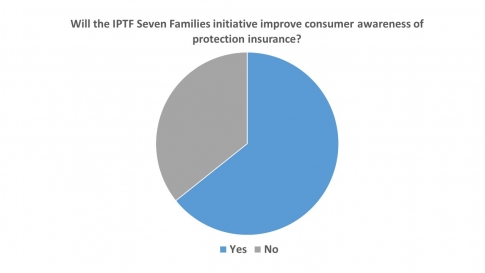 Poll Results
JULY 2014
In our last poll we asked "Will the IPTF Seven Families initiative improve consumer awareness of protection insurance?" 65% of respondents felt that awareness of protection would improve as a result of the initiative.
Latest Poll
In our latest poll we ask "Which of the following is most likely to increase protection sales?" Click here to take part in the poll and check back here soon to see the results.
Book
THE PROTECTION REVIEW IS NOW ONLINE!! Click on eBook in the menu at the top and register to view the content. If you have any queries please contact jo@lebeauvisage.co.uk
Events
Protection Review 2014 was held on Thursday 10 July at The Landmark London. The date for Protection Review 2015 has not yet been released. Check back here regularly for details.
Click here for pictures of the 2014 conference and click here to see the pictures of the dinner and awards.
For queries about this, and other Protection Review events, including training, please email jo@lebeauvisage.co.uk
Latest Articles
See all articles