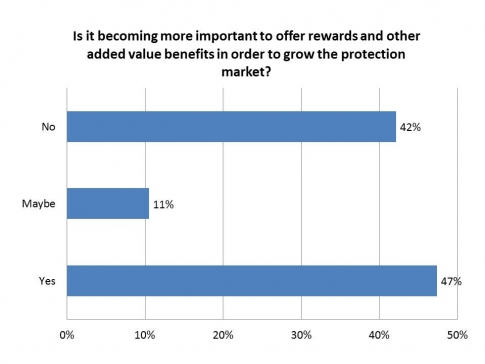 Poll Results
MARCH 2014
In our last poll we asked "Is it becoming more important to offer rewards and other added value benefits in order to grow the protection market?" In one of our closest results yet, the Yes votes just had the majority but opinion is most certainly divided.
Latest Poll
In our latest poll we ask "What impact do you think the Mortgage Market Review will have on the volume of protection business written this year? Click here to take part in the poll and check back here soon to see the results.
Book
The contents for the Protection Review 2013 as well as an excerpt from the book are available on the book page of the site. If you would like to order a copy email jo@lebeauvisage.co.uk.
Events
Protection Review 2014 will be held on Thursday 10 July at the Landmark London. For more information on places at the dinner or conference and sponsorship opportunities please contact jo@lebeauvisage.co.uk
The tenth Protection Review conference and awards dinner took place on 11 July 2013 at the Landmark London hotel. More details can be found in the events section on this site. View pictures from the 2013 conference, dinner and awards here. For queries about this, and other Protection Review events, including training, please email jo@lebeauvisage.co.uk
Latest Articles
See all articles