5QI, Philip Martin, Openwork.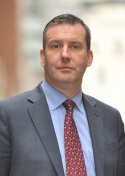 What was the first record/CD you can remember buying?
Abba Arrival. That dates me.
What is your biggest pet hate about the world of financial services?
Inteminable and unreadable boiler-plate copy provided with the aim of informing customers.
What is your favourite film, and why?
Get Carter. Michael Caine never better and Newcastle never more atmospheric.
What is currently the biggest issue facing intermediaries in the UK market?
Finding routes to engage a new generation of customers who want to engage with advice in different ways.
If you could change one thing overnight about the protection industry, what would it be?
Collaboration to deliver a concerted and coordinated campaign to demonstrate need to customers.
Liked this article? You'll probably love our other posts.
Subscribe here to get impartial expert protection insights delivered right to your inbox.
Protection Review Conference is on the 14th July. Click here to find out more and book your place at the protection markets' most important annual event.
Get in front of your target market - find out more about becoming a sponsor here